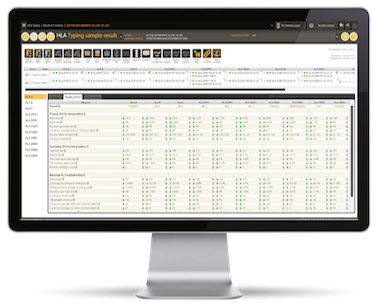 Omixon is proud to have released the newest Omixon HLA Twin software version (HLA Twin v4.1) in the beginning of January 2020. The Omixon software team has certainly outdone themselves while developing both an RUO and a CE software version to fit the needs of all customers worldwide. Some of us already consider HLA Twin v4.1 RUO and CE to be our lucky new software versions to kick in the new year! This is because of all the new features and improvements it brings to its users. 
In developing HLA Twin v4.1, our team undertook a lengthy and very involved refactoring project that resulted in a significant improvement in the overall performance and responsiveness of the software as well as a reduction in the pre-sample analysis time (about 25% reduction in analysis time per sample!). 
It is very difficult to list the large amount of work that went into this new software version, however, a comprehensive list of the new features, improvements and bug fixes are outlined below.
New features:
Serological equivalents and Bw4/Bw6 reporting for allele pairs

New novel allele export feature with table file export for easier submission of novel alleles to GeneBank and IMGT

PIRCHE epitope webapp integration to the HLA Twin v4.1 CE version to facilitate research and clinical work of labs with epitope analysis

The sample files now can be sorted by their sample/index number (S1, S2, etc…)

A new Typer Scheduler window was introduced that allows the user to change the order of scheduled analyses of samples and prioritize stat or important patient samples 
Improvements:
Algorithmic tweaks providing about 25% faster analysis time per sample

A more robust database solution for better and faster software performance (MySQL)  

Faster folder loading

Better response times between folders and screens

Improved and more reliable server-client connection

An improved automated analysis method

The Genotyping analysis result and Genotyping sample result screens were redesigned for more intuitive display of results, especially designed to handle the increasing 4th field ambiguity rates caused by the expanding IMGT database

New distributed typer scheme
Bug fixes:
Memory-related issues which caused the server to crash have been fixed

HPRIM export-related issues have been fixed

"Too ambiguous to report" message in the PDF export has been removed and an extended number of allele pairs are listed instead

A bug where specific DQB1 alleles were not viewable in the Genome browser has been fixed
Please contact support@omixon.com for more information on the new versions of HLA Twin and for future suggestions and requests of features that would help your own laboratory workflow. We are always happy to hear from HLA Twin software users and implement what is important for your daily workflow.