Join Our Clinical Validation Study
After establishing the diagnostic performance of the test in a kidney transplant clinical study, we are ready to invite external laboratories to participate in the validation of HoloGRAFT™. Join our Clinical Validation Program and evaluate measuring absolute concentration of donor derived cfDNA with HoloGRAFT™ as a biomarker for graft injury.
Background Information
The HoloGRAFT™ Screening Plates, Monitoring Assays and HoloGRAFT™ Software meet the needs of any research application that requires highly sensitive detection and quantification of graft-derived, cell-free DNA after organ transplantation.
Cell-free DNA (cfDNA) is an appealing alternative marker to monitor organ transplant patients and specifically pathologic complications at the site of the donated organ.
• First, cfDNA is generally considered to be the result of tissue damage and associated cell death, and as such should be a good marker to detect tissue injury.
• Second, donor-derived cfDNA can be distinguished from recipient cfDNA by targeting donor-specific DNA sequences.
• Third, cfDNA is obtained by non - invasive (e.g., urine) or minimally invasive (e.g., plasma) procedures without any significant discomfort to the patient. Fourth, cfDNA is a potential universal marker of graft injury independent of the type of transplanted organ.
Advanced Technologies That Will Change the Transplantation Medicine is Practiced Today

Product Overview
The HoloGRAFT™ System consists of DNA Screening plates, 43 individual monitoring assays, dPCR Master Mix, and HoloGRAFT™ Software. The HoloGRAFT™ Copy Number Variant (CNV) Assays are a set of 43 genetic markers that are able to differentiate, and then quantify, donor-derived DNA. Each of the 43 assays is designed to a distinct bi-allelic copy number variant (CNV) in the human genome. HoloGRAFT™ Software guides the user through reaction set-up for both screening and quantification and analyzes the collected data. The procedure for determining the amount of donor-derived cfDNA in a sample consists of two parts: a Screening test and a monitoring test.
Screening Test
In order to identify informative assays for monitoring the graft, DNA from the recipient and donor are analyzed using a HoloGRAFT™ Screening Plate. An informative assay is an assay for an allele that is present (positive) in the donor and absent (negative) in the recipient's genome. The Screening plate contains eight rows of the 43 monitoring assays and the reference (RNaseP) assay - that serves as both a positive control and a No Template Control (NTC).
Monitoring Test
The HoloGRAFT™ CNV assays are digital polymerase chain reaction (dPCR) assays based upon self-quenched, hydrolysis probe chemistry. Each assay is pre-mixed with an RNaseP control gene assay, in order to quantify both the amount of donor cfDNA and the total cfDNA in a single reaction.
HoloGRAFT™ Software was designed specifically for the HoloGRAFT™ CNV Assay Set. The software provides a streamlined workflow for both the Screening and quantification tests. The software guides the user through assay setup, performs data analysis, generates results reports and stores the data collected for samples over time.
Workflow model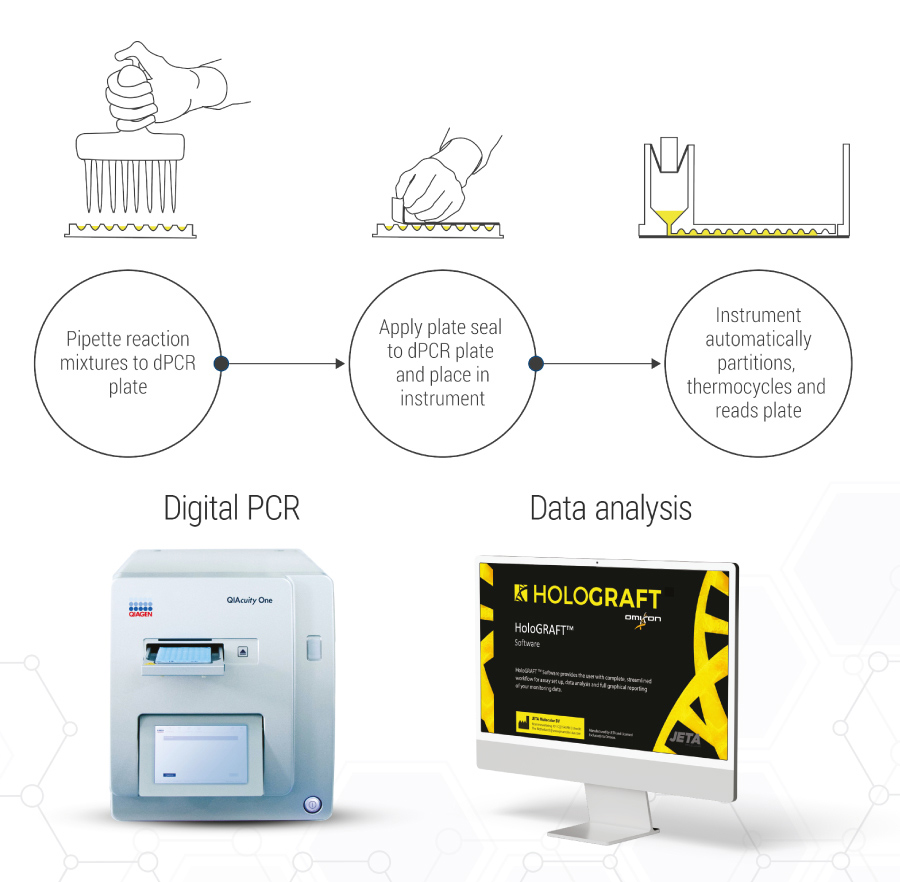 JOIN OUR CLINICAL VALIDATION STUDY
Interested in trying our new product HoloGRAFT™ prior to other laboratories? Would you like to participate and benefit from our Clinical Validation Study? Please contact your local Omixon representative at our sales department at sales@omixon.com and we will provide you with all the necessary information to start HoloGRAFT™ with Omixon.
The HoloGRAFT™ solution may vary from the final product with respect to allele coverage, protocol, software user interface. RUO Research Use Only Product - Not For Diagnostic Use