Omixon welcomes Essemedical s.r.l. as our New Distributor in Italy
Omixon is pleased to announce the signature of a Distribution Agreement with Essemedical s.r.l. (Dia4it s.r.l.), based in Vedano al Lambro (MB), Italy. The agreement is effective as of September 1st, 2020. Our cooperation will provide easier access to Omixon's high-performance, high-throughput and high-resolution multi-sample kits and software products for HLA and also ABO genotyping by Next Generation Sequencing.
About Dia4it S.r.l
Dia4it s.r.l. has forty-years experience in the distribution of products for erythrocyte immunohematology and during this long period it has distinguished itself by dedication, expertise and foresight, always aiming at improving safety for Patients and Operators.
Dr. Franco Santini, in 1980 – after serving for many years as a Manager for different multinational companies in the Pharmaceutical and Diagnostic fields – founded DiaMed italiana s.r.l. to act as sole distributor and service provider for reagents and instruments manufactured by DiaMed GmbH (CH), in all over Italy. The mission has been to provide not only gold standard products, but also excellent customer support by the highly skilled and motivated staff whose proven expertise enables them to support customers in their daily routine.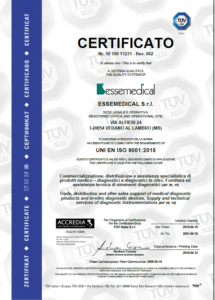 Since 1998, Essemedical s.r.l. has been spinned-off from Dia4it (DiaMed italiana s.r.l. has changed its name to Dia4it s.r.l. in 2017)  to focus on pre-transplant HLA typing reagents sales as an exclusive distributor of multiple companies operating in compliance with the requirements of UNI EN ISO 9001-2015. The quality management systems have been certified by the notified body TÜV Italia s.r.l.
Essemedical s.r.l. distributes reagents and instruments all over in Italy for:
HLA antigen typings for bone marrow and organ transplantation (serological, molecular biology, SBT)
Blood grouping, HPA and HNA in molecular biology
Liquid storage management of biological samples (e.g. for Biobanks)
Innovative devices for the collection of saliva samples
Automatic platform for the DNA extraction from blood samples
Kits to determine the fetal RHD genotype in maternal blood from RhD-negative pregnant women
Devices for Kleihauer tests
Software for the Data Management for HLA Labs and BM Blood Grouping
"We are excited by this new collaboration and believe that Omixon's NGS products combined with Essemedical's portfolio and market knowledge will provide Italian customers with best in class solutions for pre-transplant testing. Omixon's latest multiplex solution, OmniType, will allow Italian laboratories to perform 96 samples, 11 loci from DNA to Library in about 6 hours with the shortest Turn around Time on the market" – said Nora Nagy, Head of Market Development and Marketing.
We look forward to a strong relationship and welcome Essemedical to our global family!
For further details on how to become an appointed Omixon distributor for your region, please contact us at sales@omixon.com