Dear Customers and Friends of Omixon,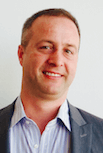 2017 was one heck of a year – a year filled with growth and change; the year the Orville Omixon took flight to unchartered territories (and beyond?).
Back in January 2017 we moved our company offices for the second time in our history, as personnel expansion continued across all departments in our European headquarters in Budapest. Standing at 41 people, Omixon has the most number of scientists, engineers and in-market consultants with dedicated expertise in NGS for HLA Typing, and with our Distributor Network covering customers in more than 30 countries.
The more things change, and the more they stay the same – we still line our office walls with our conference posters (some of course, are collaborations with many of you!), have orange flower pots and orange bean bags, and draw all over the whiteboards as we brainstorm about how we can better serve our customers every day with the best assay and software.
Since July, I've had the honor to lead Omixon from our US satellite office – an office that has grown albeit with mostly more satellites, with team members in San Diego, Houston, Baltimore and Boston! We're continuing to look for great people with positive attitudes that see puzzles, not problems, to join our Team, so if you think that's you, drop me an email and tell me why you'd like to join us.
Conferences are an important part of our culture – we get to stand side by side and choose to spend our time with many of our customers. So, after all the excitement of creating quirky videos, hosting technical workshops, lunch symposiums and parties at EFI, ASHI, and a variety of smaller conferences with presentations and dinners, I would like you to be the first to know about two major product announcements concerning Omixon's evolution for 2018, in the HLA community.
First, we are working vigorously on our RnD for Holotype HLA V3.0 and HLA Twin V3.0 – standby for the official announcement at EFI in Venice. For those already using Holotype HLA, the upgrade to the latest features will be seamless. For those still considering which NGS platform to choose, welcome to the future! Robustness, accuracy and the lowest possible ambiguity lives here.
Second, in the latter half of the year we will be announcing an Early Access Program for new products. We hope many of you will be among the early adopters who will give us feedback to help shape the products that we will ultimately launch in 2019. Keep talking regularly to your Omixon Sales Rockstars for updates and details closer to the time!
The Orville Omixon will reach more destinations in 2018 than ever before – we look forward to seeing you at any of the major immunogenetics conferences or by requesting a site visit from our Sales Team today!
Cheers!
Pete