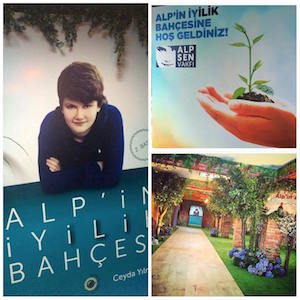 Omixon today announce that Holotype HLA, the world's leading NGS-based product for HLA genotyping has been selected and implemented by the Alp Şen Foundation in Turkey as the HLA genotyping solution of choice. Supply of Holotype HLA will officially be provided through GenPlus, Omixon's distributor in Turkey – financial details were not disclosed.
The Alp Şen Foundation is a non-profit organization founded by Begun Şen and Adnan Şen that will fund the registry typing of more than 20,000 samples per year at Istanbul University. The project with Omixon and GenPlus is a significant part of growing the number of registry typings in Turkey. When deciding to use Holotype HLA Famil Aydin of the Alp Şen Foundation notes that "For a project of this size, trust that your provider can deliver at scale is a particularly important issue for any lab. Our close relationship with a well-respected Turkish Distributor in GenPlus and the world's leader in NGS for HLA in Omixon was crucial in our decision making".
HLA genotyping by NGS is ideally suited to HSC donor recruitment typing, because of the very high throughput capabilities in a single run. "Being able to automatically process up to 192 samples per run on a single MiSeq was a significant differentiating feature of Holotype HLA" notes Famil Aydin. "The accuracy of the typings, the low hands on time and ease of interpretation makes it a technology that would be quickly adopted at Istanbul University". Holotype HLA can scale from 4-192 samples per MiSeq run depending on the choice of flow cell with even greater capacity for registry labs that wish to adopt the NextSeq instrument from Illumina.
Marcello Scala, Omixon's Director of Sales for EMEA, says "Turkey is well-known globally as leader in transplantation with the highest number of kidney transplants from living donors in EMEA. The growth in registry typings for bone marrow transplantation driven by the Alp Şen Foundation will further enhance their reputation in stem cell transplantation as well". Additionally, Hande Eren, General Manager at GenPlus says "While the Alp Şen Foundation have become the first in Turkey to adopt NGS, several other institutes are already primed to adopt NGS for the bone marrow and solid organ typing workflows."
Omixon's success in Turkey follows the recent success of Omixon winning the largest competitive tender in Europe – the Etablissement Français du Sang (the French National Blood Service, EFS) and obtaining the CE Mark to sell Holotype HLA as an IVD in Europe.