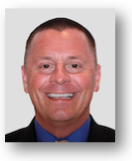 Omixon is delighted to announce that Dan Mancuso will join Omixon's US Operations as a new Market Development Director, Americas, effective April 2, 2018.
About Dan
With 30 years of experience in the HLA field, Dan is excited to join the Omixon team and begin his new role as Market Development Director, Americas with Omixon Inc. Dan received his Bachelor of Science from Penn State University. Shortly after, he began working at Cleveland Clinic and spent eight years as Molecular Lead Tech. Right after, he become Molecular Supervisor at Donor Network of Arizona.
From the early 2000's, Dan shifted his interest to sales roles within the HLA field and worked for a number of leading HLA companies, such as Qiagen, Inc., Olerup, Abbott Molecular, and Illumina as Sales Representative and Transplant Genomics Specialist.
Dan is excited to contribute his knowledge, enthusiasm and extensive experience to Omixon's team of NGS & HLA experts, and continue to bring Omixon's leading Next Generation Sequencing Technology to Transplant Centers in Canada, the USA, Central and South America. Dan's LinkedIn profile