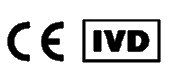 Omixon is pleased to announce that the latest Holotype HLA protocol version (v3.0.1) has received a CE-IVD certificate that complies with the IVD Directive 98/79/EC allowing commercialization of the new version products as IVD in Europe. 
The new Holotype HLA v3.0.1 kit includes pre-mixed PCR amplification reagents that reduce pipetting steps and the risk or error significantly. Additionally, new LR-PCR amplification conditions have boosted the robustness and overall performance of the amplification that ensure that all HLA alleles are amplified successfully. Another important improvement is the reduction of input DNA amount in the LR-PCR. 
Furthermore, per sample equimolar pooling for all the HLA loci tested has been introduced to better balance them in the pool and to optimize the number of samples that can be processed in a single sequencing run. Notably, one can run up to 288 samples with 5 loci in one run using a Standard 300-cycle Miseq kit. The v3.0.1 protocol is optimized for the use of bead-based size selection method enhancing automation and higher throughput on all flow cells, but those who used Pippin Prep before may continue with their current method. 
Finally, Holotype HLA v3.0.1 is fully supported on various Illumina sequencers, most notably the Miseq, the Miniseq and the iSeq to better serve the needs of all of Omixon's users. With all the improved robustness and lower pipetting time using the v3.0.1 Holotype HLA protocol, you can now enjoy the fastest and easiest NGS-based protocol available!
The new Holotype HLA v3.0.1 CE configurations are listed in the following table:
| Product Codes | Configuration |
| --- | --- |
| H52.1, H56, H58, H60 | 24/7 configurations A1, A2, A3, A4 |
| H62, H64, H66, H68 | 24/11 configurations A1, A2, A3, A4 |
| H23, H24, H26 | 96/5 configurations A, B, C |
| H32.1, H34.1, H38 | 96/7 configurations A, B, C |
| H74, H76, H78 | 96/11 configurations A, B, C |
Please click HERE for more information on all Omixon products.