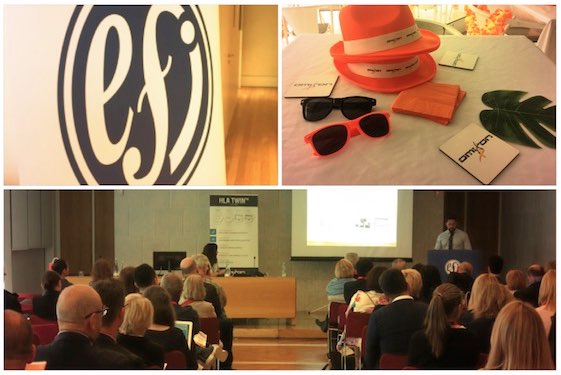 Thank you all, especially to our customers, distributors, agents and guests for visiting our booth at the EFI Annual Meeting 2019 in Lisbon, Portugal! Special thanks to all our guest speakers – Prof. Mehdi Tafti, Dr. Mohamed Jahromi, Dr. Dominique Masson, Dr. Valia Bravo-Egana, Dr. Mette Christiansen and Dr. Monica Dutescu –  for taking the time to come and be part of our Lunchtime Symposium and User Group Meeting, and to all organizers for this amazing conference in Lisbon.

Advances in Disease Associations Using NGS-based HLA Typing
More than 120 professionals attended our Lunchtime Symposium presentation which focused on the science of HLA and disease associations with Professor Mehdi Tafti from University of Lausanne in Switzerland speaking about Narcolepsy and Dr. Mohamed Jahromi from Dasman Diabetes Institute in Kuwait who presented on how NGS-based HLA typing has aided his research on Type 1 Diabetes.
 Advances in Disease Associations Using NGS-based HLA Typing

User Group Meeting Presentations
User Group Meeting – Updates from Omixon and Technical Presentations
The interactive User Group Meeting on Wednesday, May 8 was a forum where participants could learn about Omixon's products, interact with current users and network with NGS and HLA experts. Guest Speaker presentations by Monica Dutescu (National HLA Laboratory, Bucharest), Dominique Masson (EFS Rhone-Alp, Grenoble), Valia Bravo-Egana (Medical College of Georgia), Mette Christiansen (Aarhus University Hospital) are also included.

Scientific Posters Presented at EFI 2019