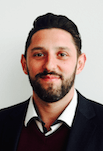 As NGS continues to be adopted across the world, we are delighted to announce the latest expansion of Holotype HLA to Portugal and the Middle East. In an interview with Marcello Scala, our Vice President for Sales in EMEA and Asia, we discussed how the market is changing and how Omixon has come to dominate the HLA typing by NGS market in Europe, the Middle East and Africa. Marcello has spearheaded Omixon's efforts in this region for over three years, taking on his Vice President position since July, 2017.
How do you see NGS for HLA typing in recent years and nowadays?
In my opinion we are all witnesses of an important shift in the directions that commercial companies are taking by promoting the adoption of NGS as disruptive technology for HLA typing. In the recent years HLA vendors have increasingly focused their attention in providing reliable and accurate NGS solutions for the HLA typing market. The current market is considered mature, but was underserved by legacy technologies giving rise to NGS as a powerful solution. We anticipate that automation in the pre- and post sequencing protocols will further drive adoption of NGS in the market and the launch of new products and services by prominent industry leaders is expected to influence the landscape of which companies will grow fastest over the next period.
What were Omixon's initial success factors?
Our initial goal was to develop an attractive combination of an NGS assay and a software solution for the HLA community. Thanks to the partnership between Prof. Dimitri Monos's lab at the Children's Hospital of Philadelphia and Omixon, in 2014 we were the first company to be successfully unify a clinical NGS protocol as a kit, designed in an HLA Lab for HLA labs and a powerful software solution built from the bottom up to analyze NGS, HLA Twin. This combination became known as Holotype HLA. Omixon has become an increasingly important cornerstone for labs when there is a need to genotype HLA genes by the latest Next Generation Sequencing. Do you Holotype, yet??
How do you see your market potential now?
The next stage or challenge is obviously the ability of the commercial companies to improve their current solutions: faster turnaround time, robustness in the assay, accuracy of the genotype and flexibility in the choice of ancillary reagents and/or equipment to meet the customer's needs. What do I really mean by that? Companies are now focusing their efforts to streamline their solutions and of course as consequence making the life for the end user easier.  Omixon has always been the only company in the market entirely 100% focused on the research and development of NGS solution for HLA Typing and this is a characteristic that allows us to have a clear vision for our product roadmap and the innovations that we want to implement for our customers.
Who are your current customers?
The majority of our customers are clinical labs or donor registries that we support directly, however we have several customers that are managed by distributor partners. We are committed to a mutually successful and long-term business partnership with both customers and our distributors to improve patient outcomes. Our Research and Development Team have a mixture of experience in all aspects of molecular diagnostics, with experts in software development, bioinformatics and genomics and are dedicated to develop robust and accurate products to satisfy customers' needs within a regulated quality framework.
What's next?
Omixon's growth strategy includes strengthening and expanding its footprint to new countries, especially in Asia by keeping a continuous focus on our current customers and signing up new partners that believe in our products and share the same values. In 2018, we will be focusing more on developing countries – taking part in the improvement of their current methods is an honor. 2017 was a challenging, but a successful year, with recent storms in the market, we are now in the process of signing a 3-year exclusive agreement in the Middle East and also to provide kits to analyze 15 000 samples within one year at the Centro Sangue e Transplantação de Coimbra in Portugal in cooperation with ZMWay, our local partner in the Iberian Peninsula. Regarding to our further product announcements, please join our Lunch Symposium at the EFI congress this year in May in Venice, Italy.
Thank you for choosing us and let us take care of the rest!