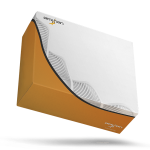 We are pleased  to announce the latest evolution of our world-leading HLA Typing product: Holotype HLA v3.0! This new version includes significant enhancement to our current genotyping protocol, the most important of which is the new pre-master mixed PCR reagents that decrease the PCR setup hands-on time from 55 min to 20 min. In addition to the lower hands-on time requirement, the simplicity of the new setup minimizes the risk of human error and makes the PCR setup automation on a liquid handler much easier.
Even more noteworthy is the improved robustness of the amplification that the new PCR reagents are able to provide, allowing for even the "more difficult" alleles to be reliably detected.
Other major Holotype HLA v3.0 new features:
Lower input DNA requirement to ~500 ng total

DQB1 and DRB4 improvement

Complete flexibility on the number of samples and/or number of loci to process per run

Optimized and maximized flow cell capacity for even more cost savings (110 samples at 11 loci)
Having even better time-saving steps than Holotype HLA v2.2, Holotype customers enjoy the fastest and easiest NGS-based protocol available.
Ready for Holotype HLA v3.0? Email us at sales@omixon.com or support@omixon.com now!