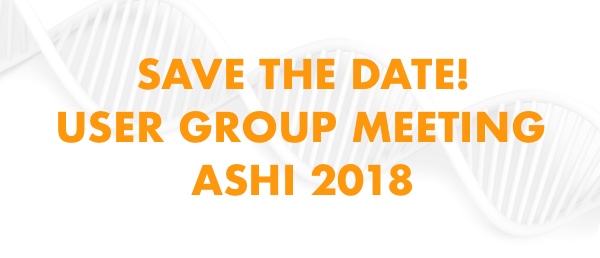 We're having our second Interactive User Group Meeting on Monday, October 1st 2018, 1pm – 5pm EDT at the ASHI Annual Meeting in Baltimore, MD!
The User Group Meeting will be a forum not only for us to provide you with the most recent Holotype HLA v3 product updates, but also for you to hear and discuss several Holotype HLA user's experiences, learn from their challenges and celebrate the successes. It will be an opportunity to raise questions, to network with NGS experts and, for the current users, to share your knowledge and experience on NGS and Holotype HLA with the HLA community as well as learn from other Holotype HLA users.
Snacks, coffee and refreshments will be provided during the meeting.
Date: Monday, 1st of October, 2018
Time: 1:00pm-5:00pm EDT
Venue: To be confirmed…

User Group Meeting Agenda
Introduction (Product Updates)
Holotype HLA Assay Related Session (hear from Omixon Customers)
Short Break
HLA Twin Software Related Session (hear from Omixon Customers)
Coffee Break
Automation Session (hear from Omixon Customers)
Open Forum Discussions, Networking (Q&A)
We would like to ask you to share the topics you would like to hear aboutor would you like to talk about (we are accepting all volunteers!). The topics and questions can be of a protocol technical nature (experiences, challenges and how you overcame them), NGS validation and accreditation processes, automation, data analysis including case studies (did you discover an interesting case during your NGS work with the Holotype? Please share it!). The choices are endless and we are excited about all of the them.
RSVP: Please send us your topics/questions by August 31st via email to sales@omixon.com and include the following information: full name, institution and lab name and email address.
Registration and attendance are free of charge.