NGS-based molecular typing kit for use on Illumina sequencing platforms
Monotype ABO™ is a long-range amplification kit covering Exons 2-7 of the ABO gene, and the resulting libraries can be sequenced on Illumina instruments with 2*150bp paired-end reads.
The ABO assay leverages the power of the Holotype HLA™ workflow, providing high throughput and allele level resolution genotyping of the ABO gene.

The analysis of molecular level ABO data is supported by HLA Twin™, the most accurate genotyping software for the processing of NGS data.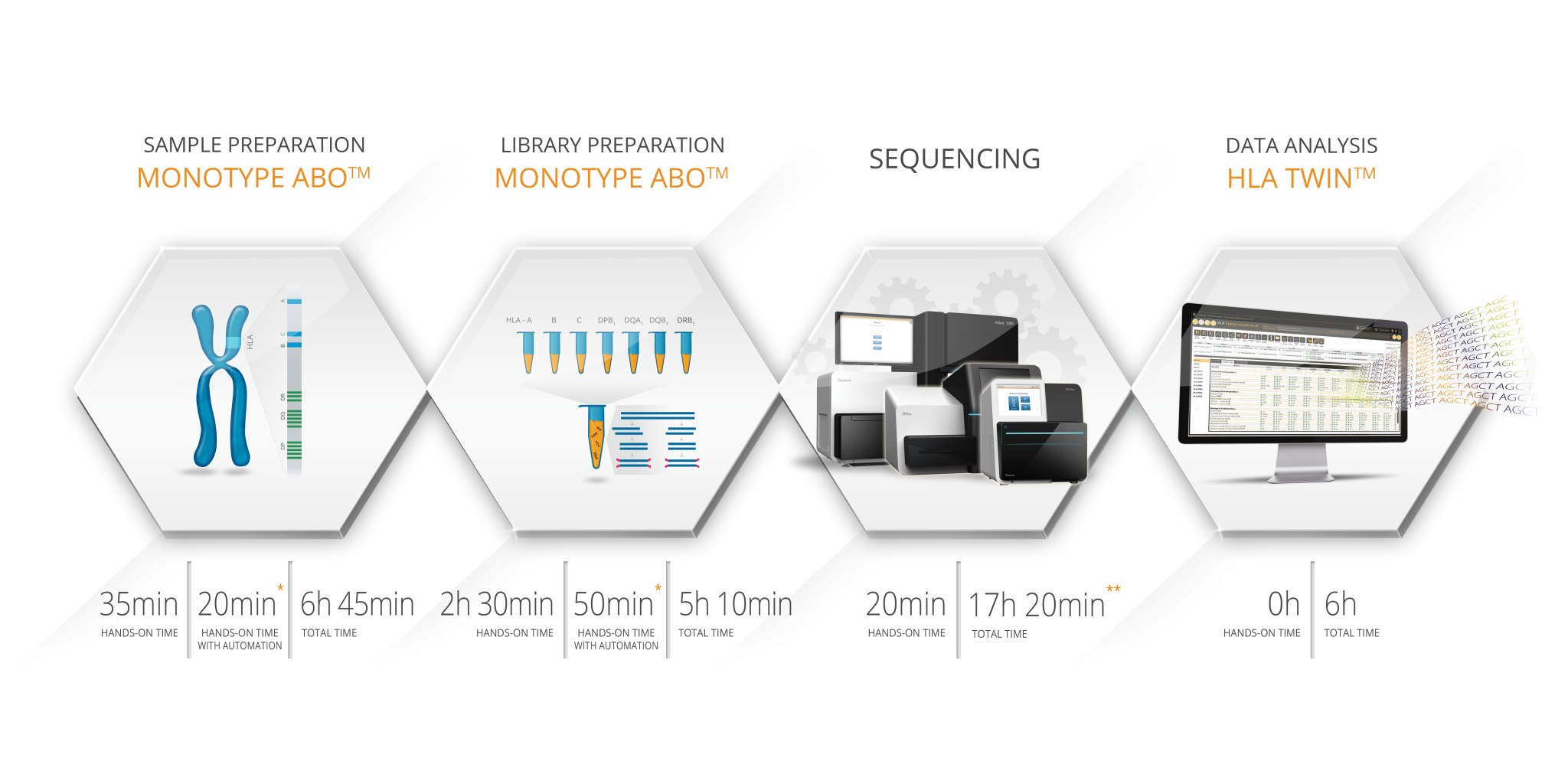 Only 80 ng of DNA required for amplification
Combine up to 576 samples per run ***
4 hours hands on time for 192 samples
Less than 48 hours turnaround time from sample to result
Automated genotyping after completed sequencing run
Two independent algorithm-analysis for allele-level genotyping
Supports clinical and research workflows
20 Quality Control metrics for confident assignment
Support for Windows, Linux and OSX, standalone and server-client setups
ABO libraries can be combined with other libraries for optimized sequencing cost
MiniSeq, MiSeq and NextSeq supported
Any type of flow cell supported depending on throughput
300 and 500 cycle chemistry supported
What is included in the kit?
ABO specific primers for 24 or 96 samples
Library Preparation Reagents for 24 96 samples
96 Well Adaptor Plate with indexed adaptors
NGS Excel Workbook
HLA Twin™ - dual algorithm genotyping software
Technical and equipment requirements
MiniSeq, MiSeq or NextSeq
Thermal Cycler
Plate fluorometer or qPCR instrument
64-bit computer with a minimum of 16 GB RAM
Library Size Selection: Pippin Prep or Magnetic Beads
All timings are for 192 samples, Monotype ABO v1.0
* Timings are based on the Biomek 4000 by Beckman Coulter.
** On a MiSeq 300-cycle micro flow cell.
*** Lead time for >288 barcodes varies. Consult your local sales representative for an accurate estimated delivery.